Project news
This section keeps you updated on any major development throughout the course of the FORTEe project.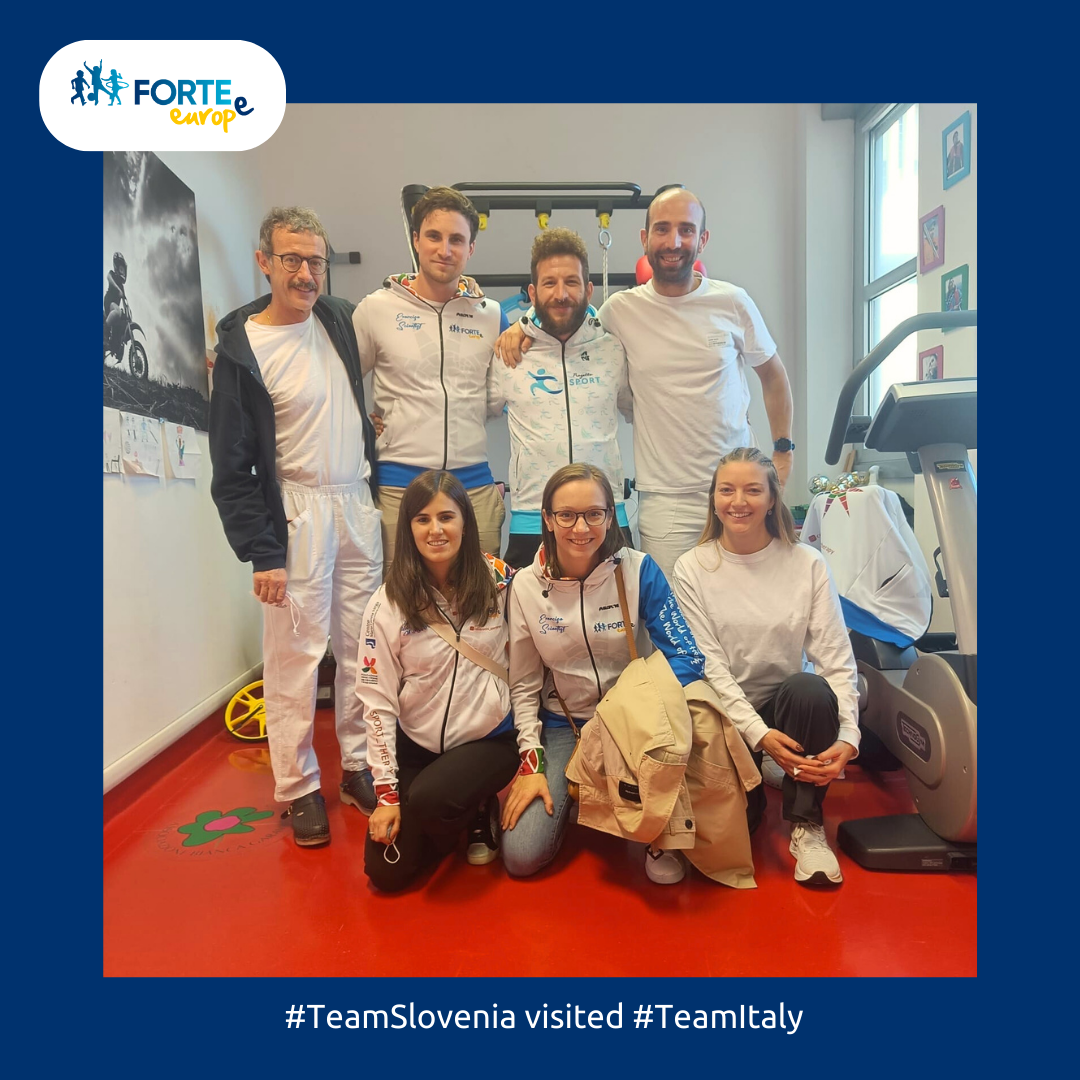 07 November 2023
Mentor-mentee visit: Meta and Domen in Italy
Last week, the FORTEe Team from FORMA3D in Ljubljana, Slovenia, embarked on an exciting journey to visit their counterparts in Monza and Milan, Italy. The purpose of this visit was two-fold: to strengthen the collaborative bond between FORTEe project partners and provide an opportunity for mentor and mentee pairs to meet face-to-face. Everyone was eager to exchange ideas, insights, and experiences that would further enhance the success of the FORTEe project!
Now, let's read about Meta and Domen's reflection on the visit:
"We have been looking forward to our visit to Monza and Milan for quite some time, to see first-hand how the FORTEe project works in those centres. It was great to meet our fellow researchers and, of course, our mentors from the mentor-mentee program. They were very knowledgeable and made us feel welcomed there. We shared our experiences and had a lot of fun experiencing their work environment. We took part in cardio-pulmonary exercise testing (CPET) and near-infrared spectroscopy (NIRS), which was very interesting to see, because we do not perform these measurements in our centre. We also had the chance to meet their patients, who shared their positive thoughts about the program, so we left Italy with even more enthusiasm for working in the future. Thanks again to the Italian team!"
Thank you, Meta and Domen, for sharing your experience with us!
Together we #GetStrongToFightChildhoodCancer!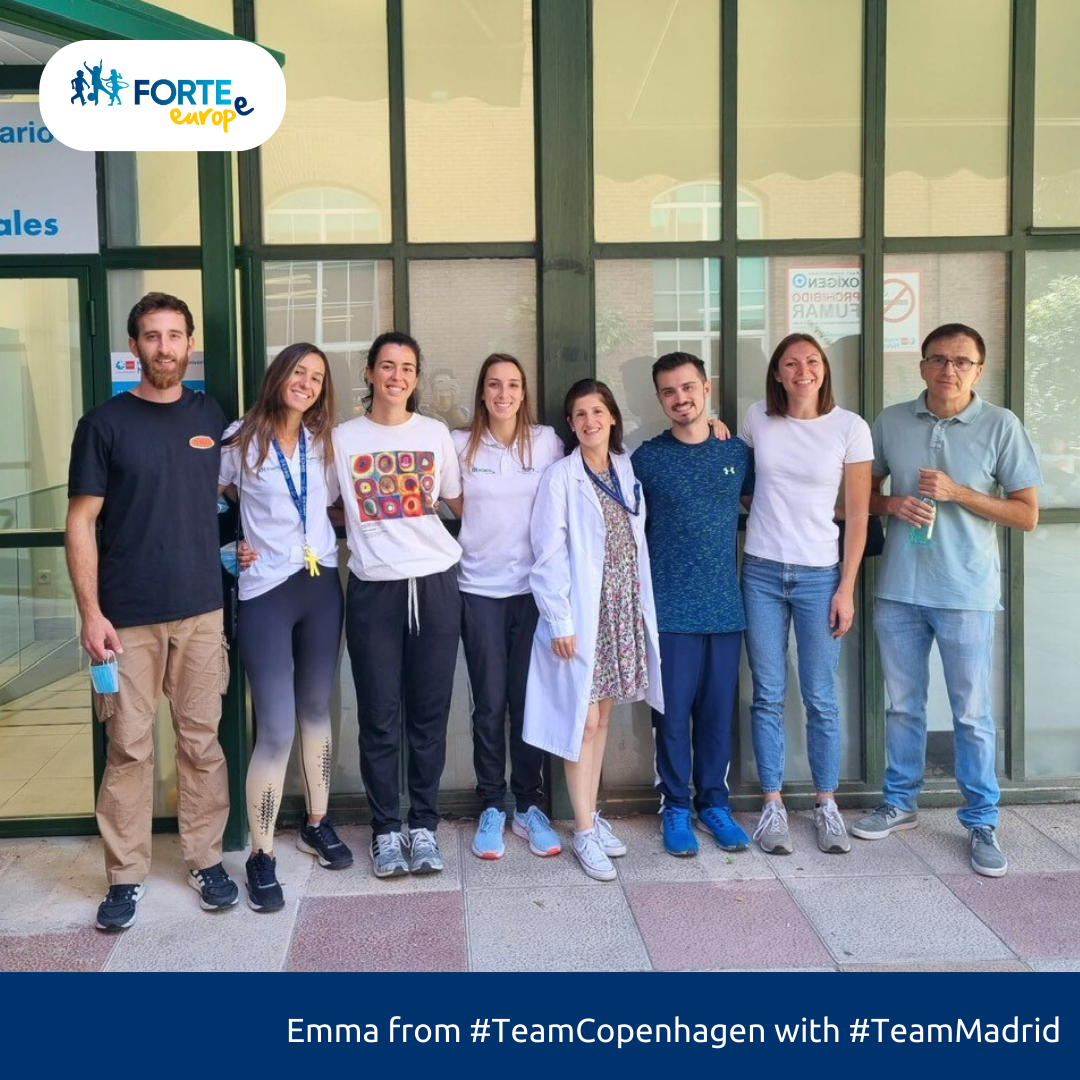 31 October 2023
Mentor-mentee visit: Emma in Madrid
Embarking on a mentor-mentee training journey abroad can be a transformative experience for both mentors and mentees. It's an opportunity to not only exchange knowledge but also to forge lasting connections across borders. In the first week of October 2023, Emma Fredskild Høvighoff, a young researcher from RegionH in Copenhagen, paid a visit to the FORTEe Team in Madrid as part of the training activities embedded in the FORTEe project.
Let's hear Emma's thoughts about the visit:
"First of all, it was a lovely trip and great to meet fellow researchers from FORTEe! It was inspiring to see how they run FORTEe in Madrid, get inspiration and discuss challenges. I was very lucky to see how they analyze blood samples with some of the same techniques as they will use in the biomarker project in FORTEe. Furthermore, I also joined a small presentation with the team and got to see the other projects they are working with. It was overall a great trip and it was lovely that the team in Madrid took so good care of me when I was there! I got home with renewed energy and inspiration.
I think the mentor-mentee visit is a great opportunity for us young investigators to be able to go and visit other recruiting centers within the FORTEe trial. I think it helps us strengthen the bond between the different centers, which I think is important when we work with partners that are located so far away from each other. I think the money and time we spend on these trips will pay off both during the FORTEe project, but hopefully also help us collaborate in making other great research projects within pediatric exercise oncology in the future. "
Thank you, Emma, for sharing your experience with us! Together we #GetStrongToFightChildhoodCancer!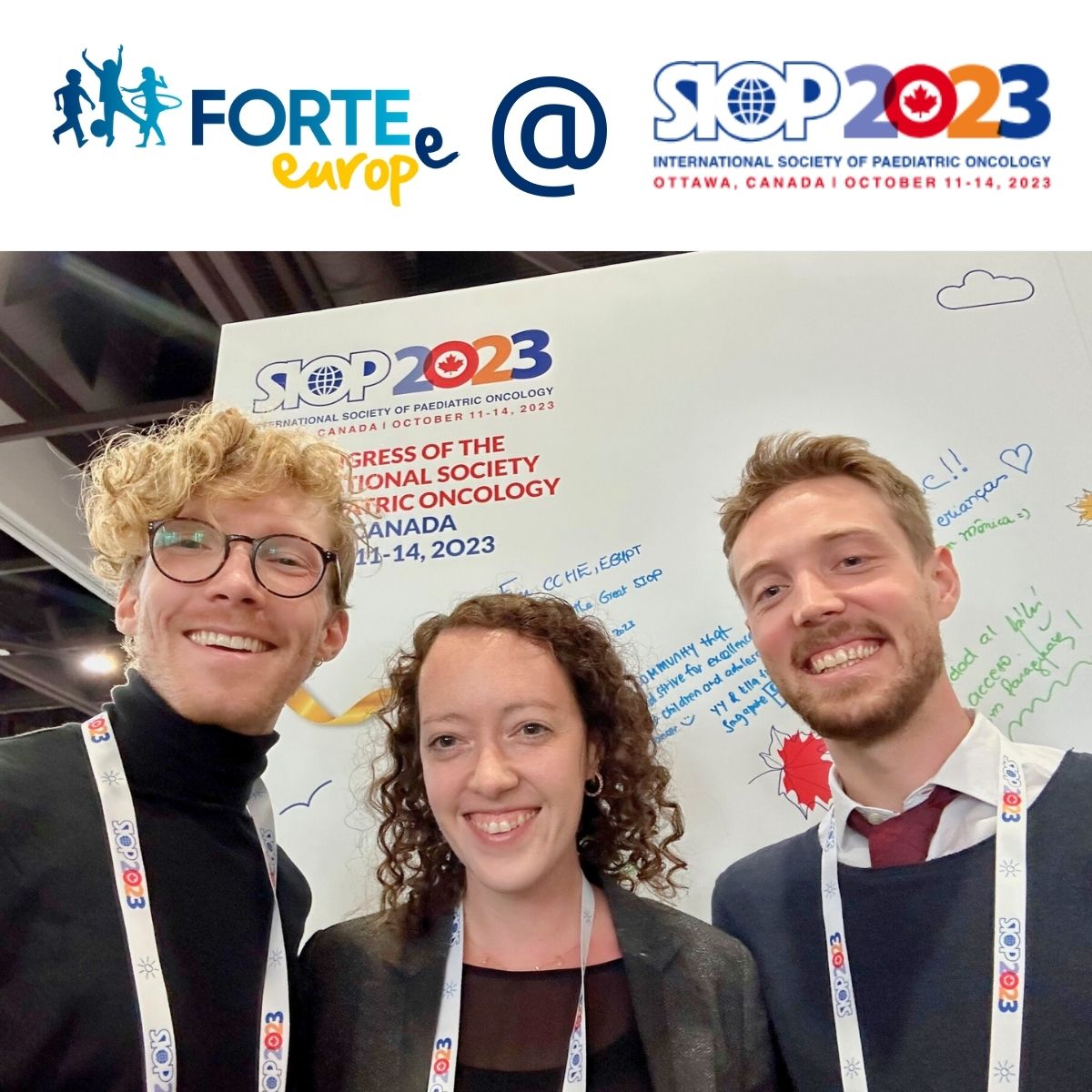 11-14 October 2023
FORTEe in Canada at the SIOP Congress 2023
We have just had the incredible opportunity to present FORTEe at the 55th Annual Congress of the International Society of Paediatric Oncology – SIOP in Ottawa, Canada. Dennis Wilke shared the first promising results of his qualitative research within Work Package 2 (WP2), focusing on childhood cancer patients' experiences with a structured exercise programme. All patients participating in the interventions reported predominantly positive effects on their overall well-being, endurance, fitness, and body awareness!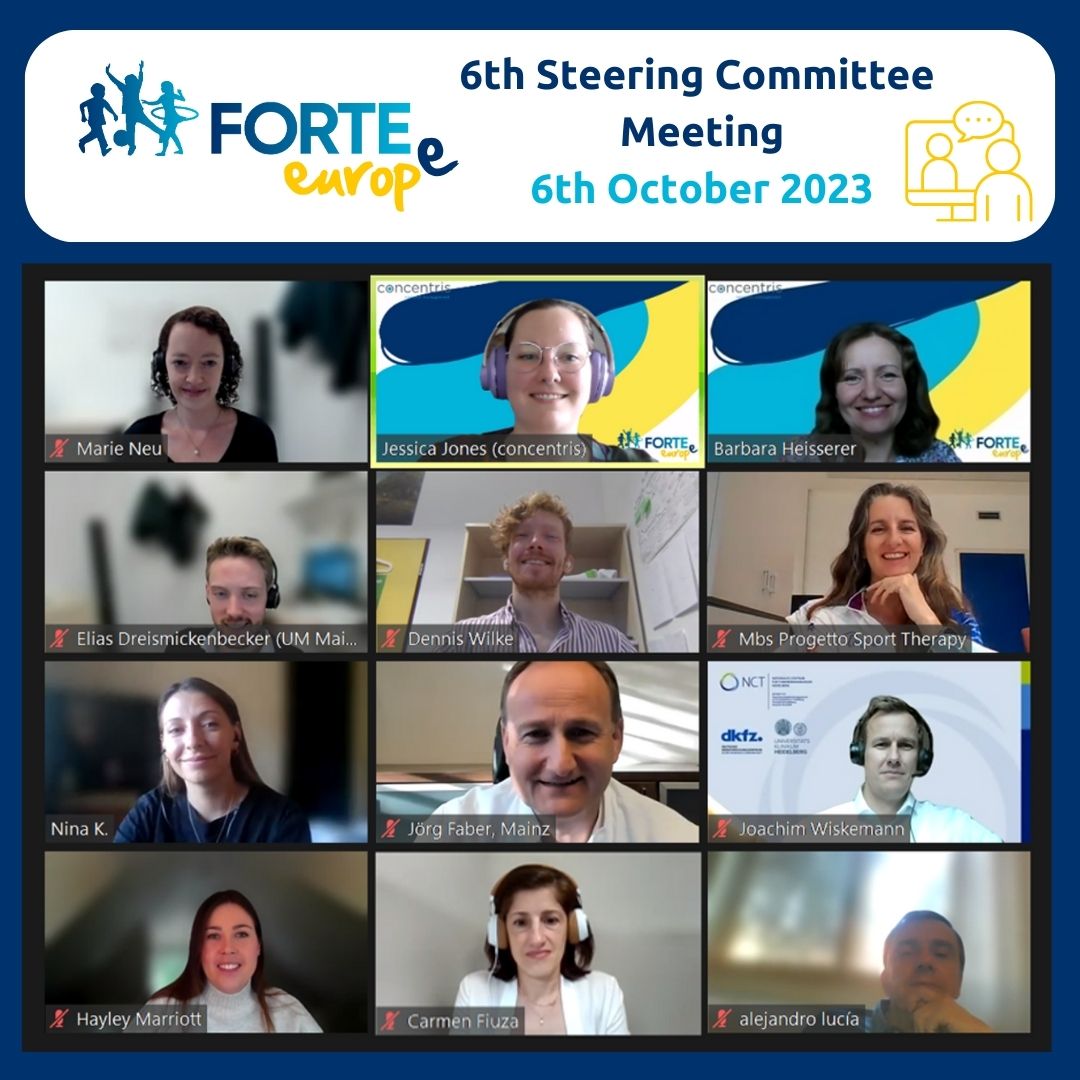 10 October 2023
Successful 6th Steering Committee Meeting
On 6th October 2023, FORTEe's Steering Committee (SC) came together online via Zoom for status updates on the clinical trial, patient recruitment, the biomarker subproject, data analysis, first results, dissemination and communication efforts, and the overall progress in all work packages. We also discussed important ethics and risk monitoring topics. Go team!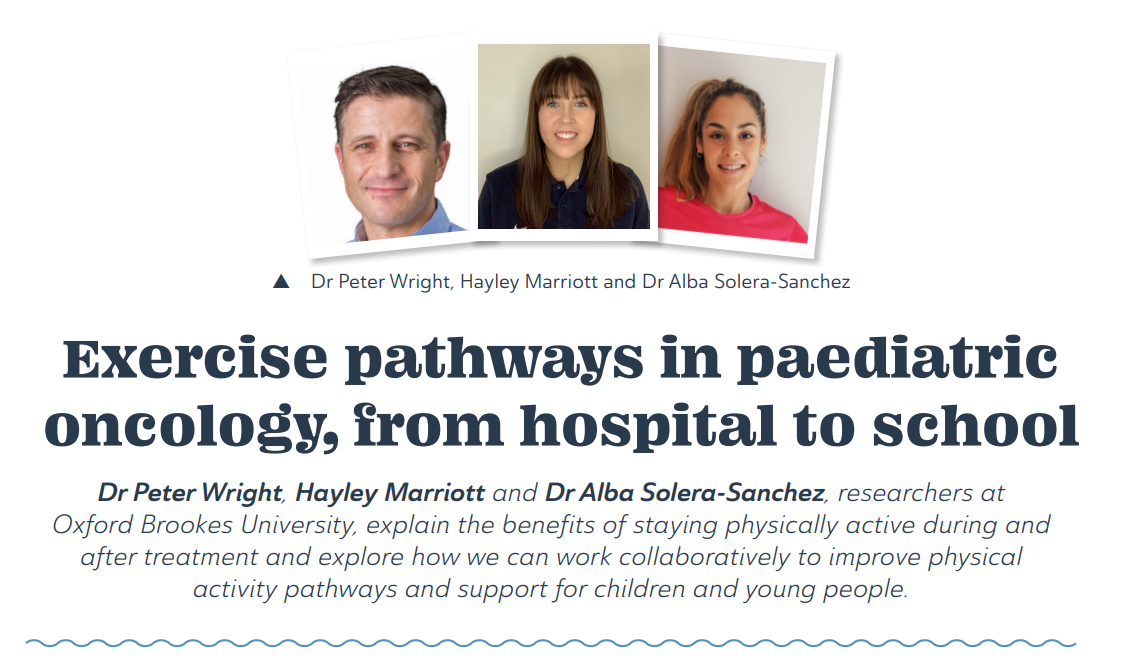 28 June 2023
FORTEe in CCLG's contact magazine!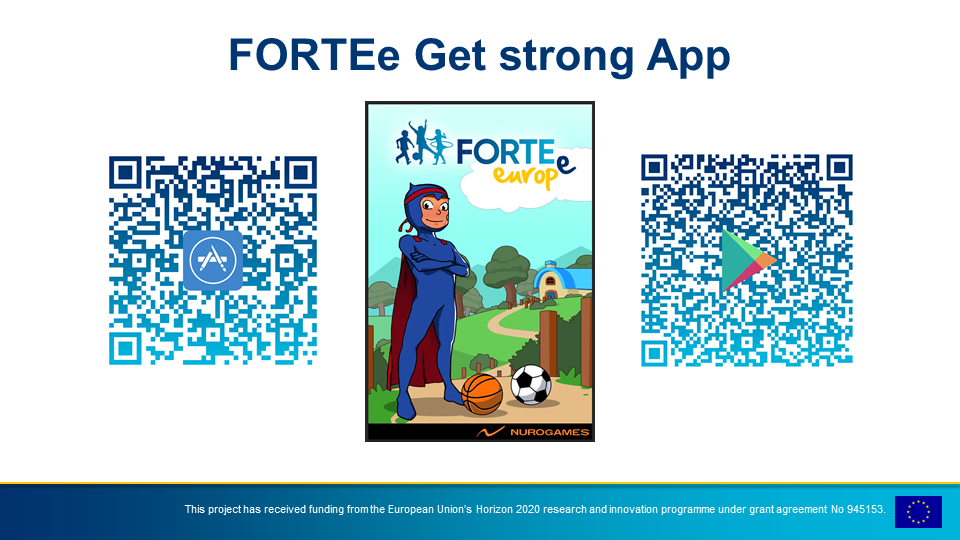 30 May 2023
FORTEe App: Get Strong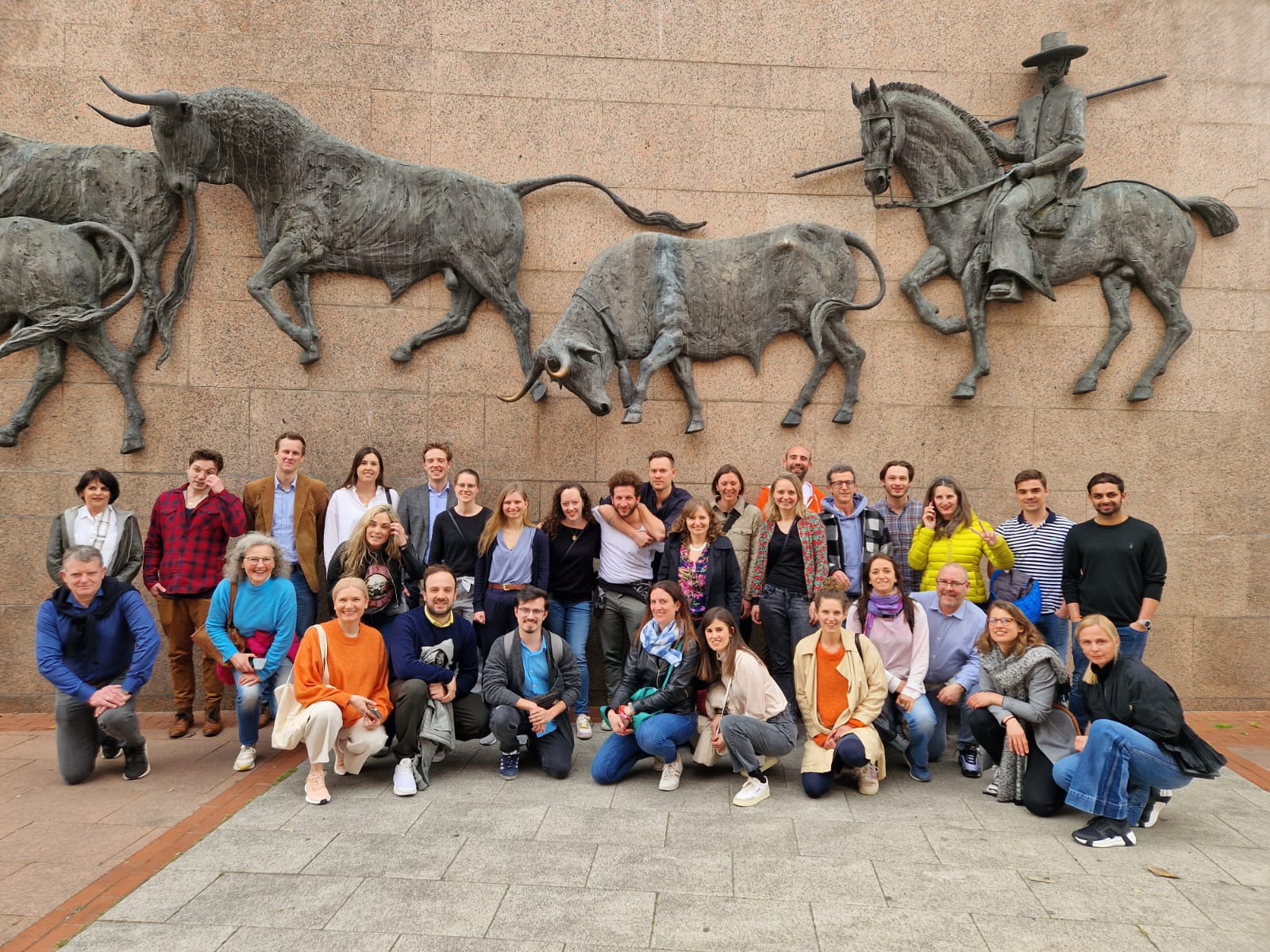 24 March 2023
5th FORTEe General Assembly Meeting
The FORTEe GA meeting was a great success, with over 40 delegates discussing scientific progress and reaching important decisions👏🏻✨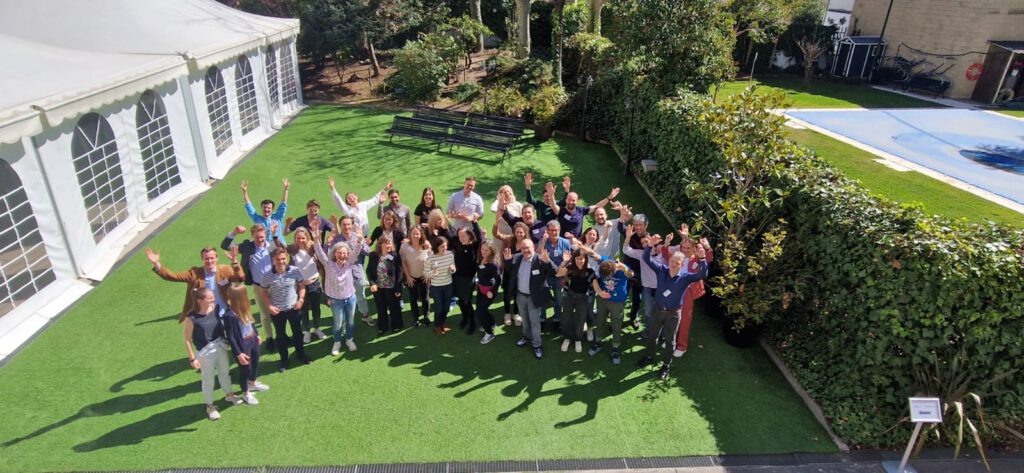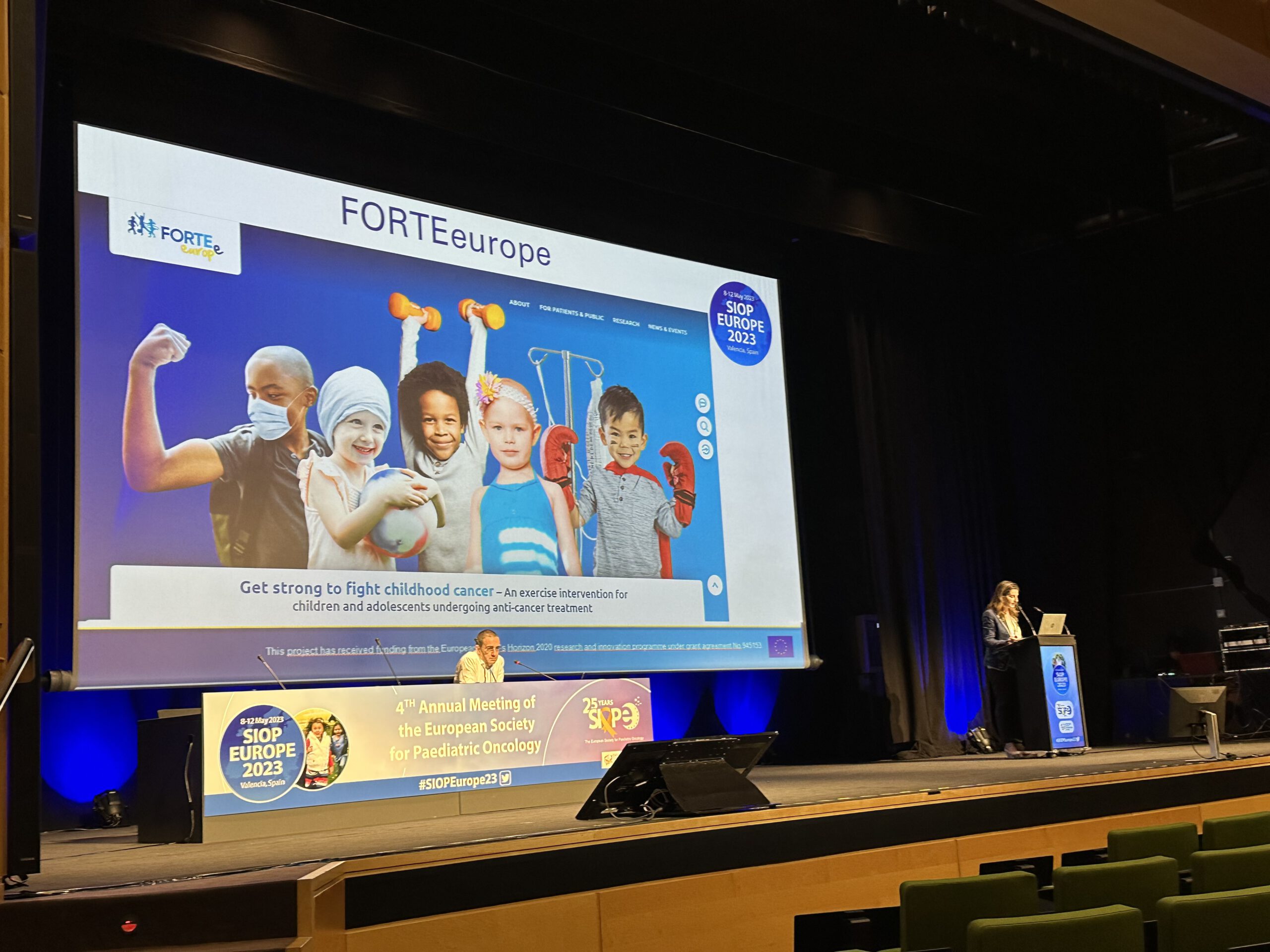 FORTEe at scientific conferences
In April and May 2023, FORTEe members have participated at a number of scientific conferences: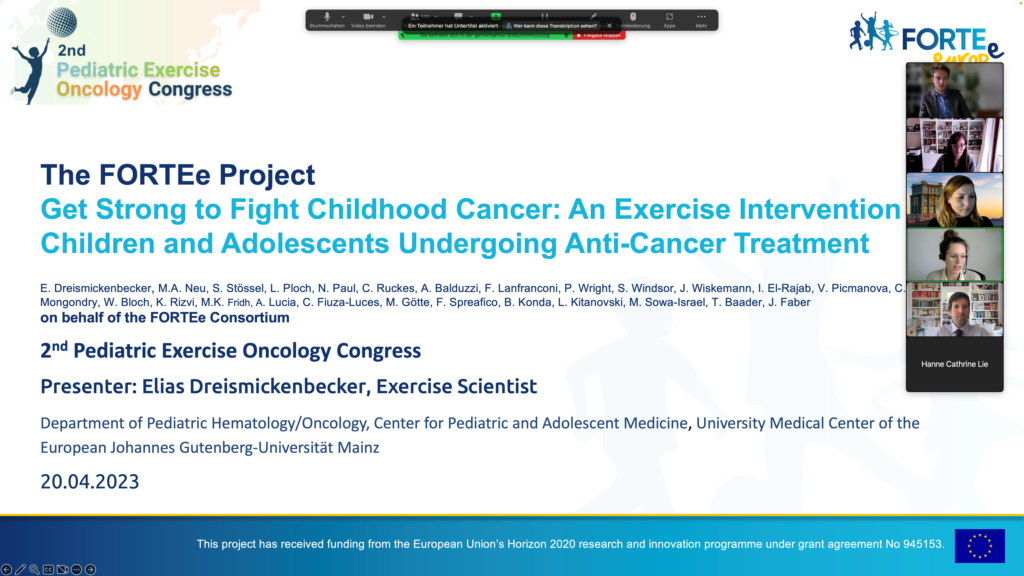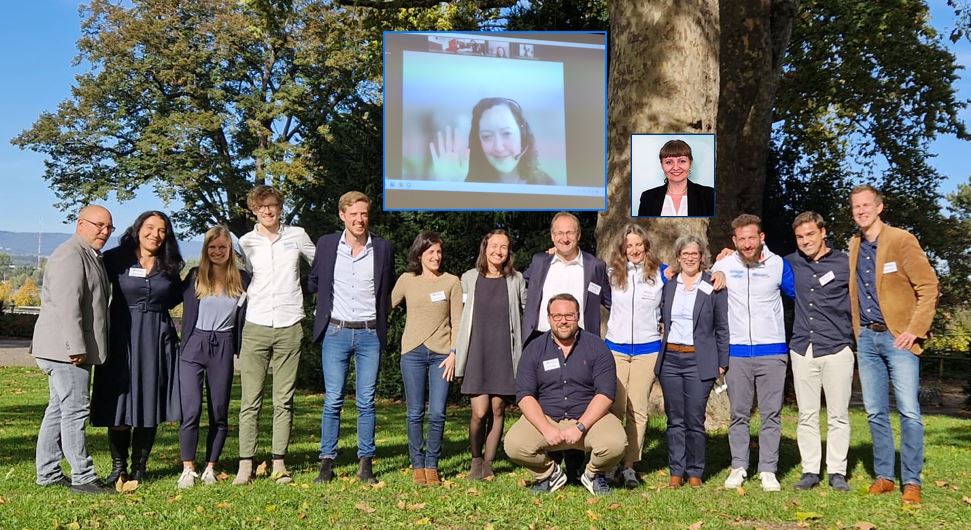 12 October 2022
4th FORTEe Steering Committee Meeting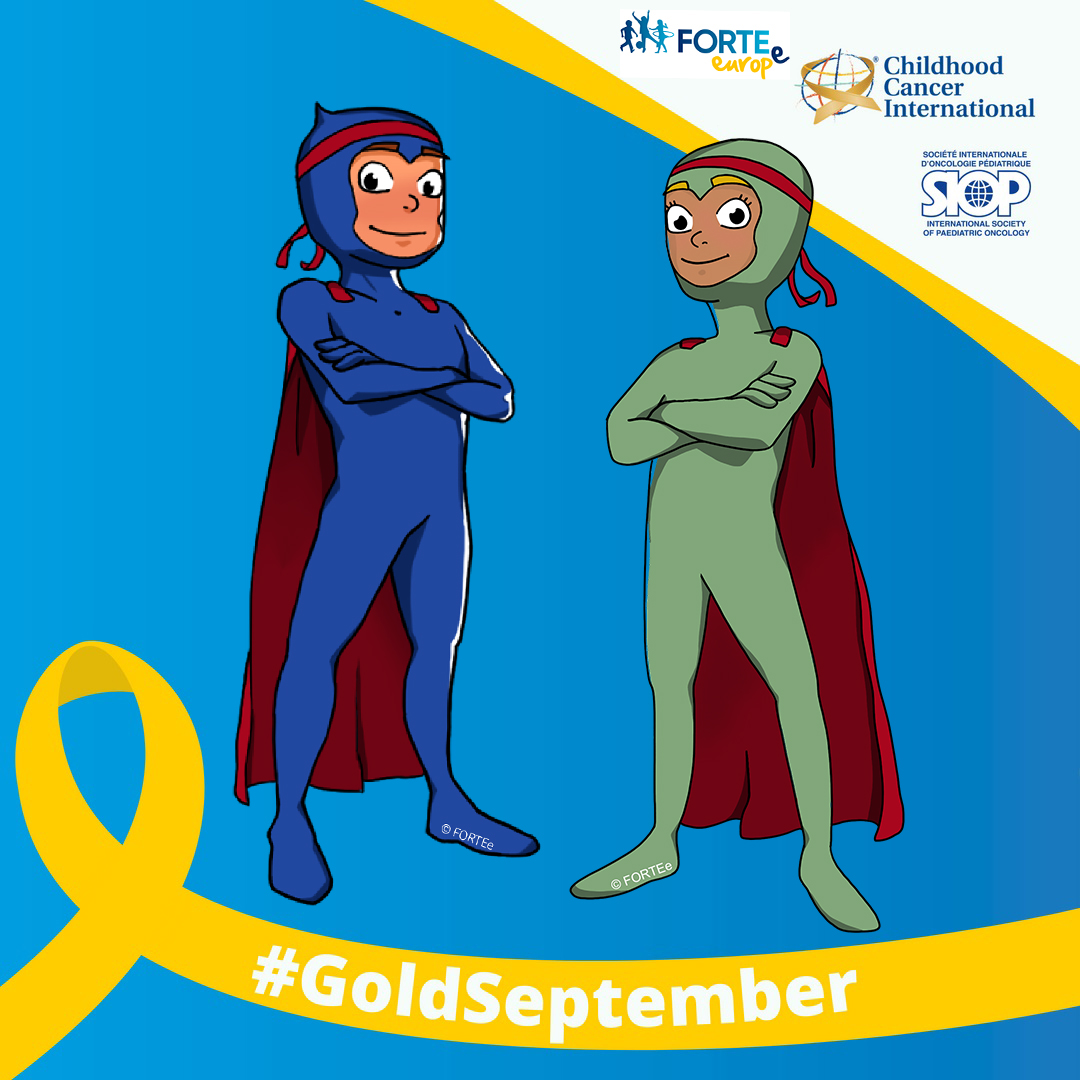 01 September 2022
FORTEe joins SIOP #goldseptember campaign
15 February 2022
2nd GA Meeting
01 December 2021
FORTEe Project Brochure out now
You can now access a web and a print version of the project's info brochure with the most important facts of FORTEe and how to exercise and innovative therapy can improve Quality of Life of children with cancer.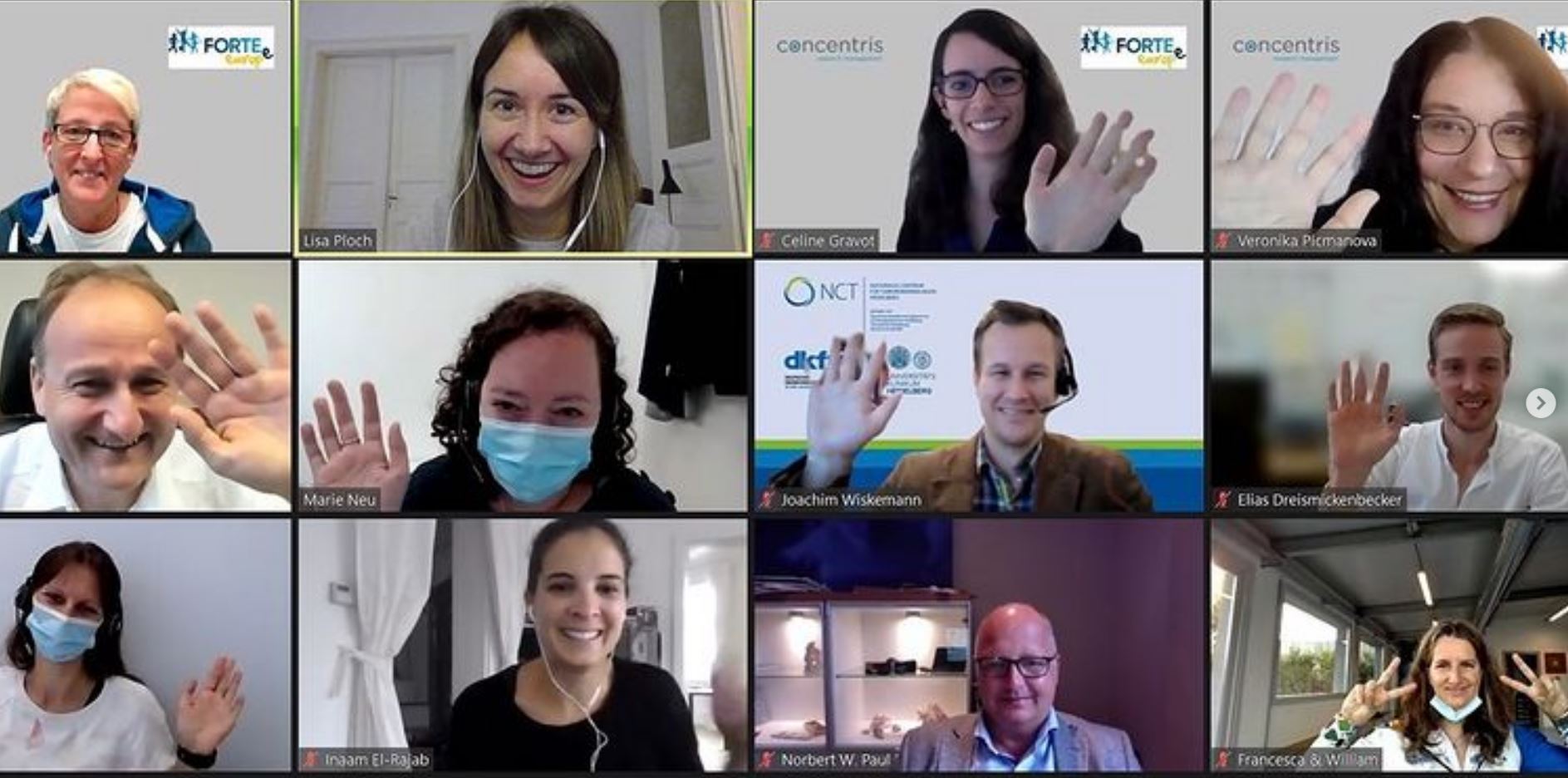 05 October 2021
2nd SC Meeting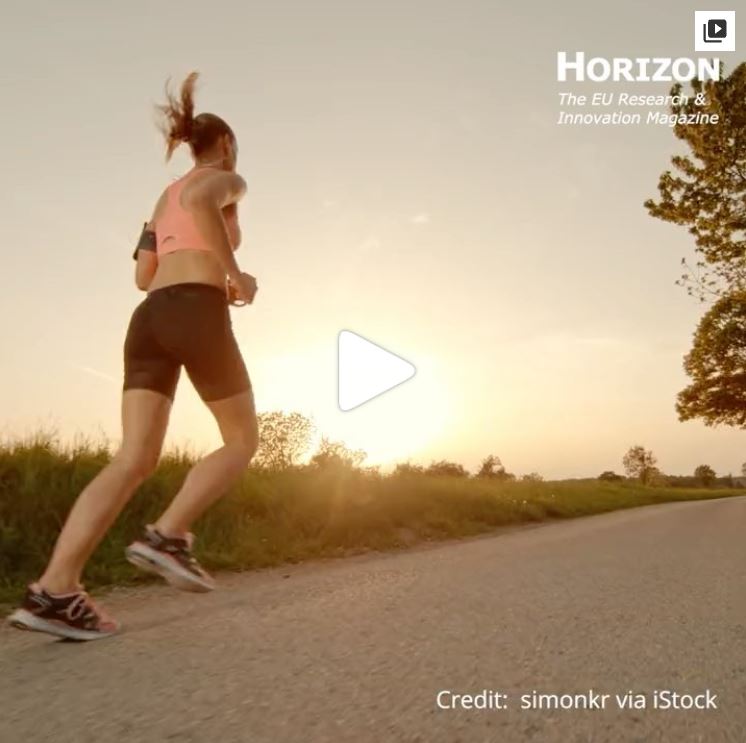 28 September 2021
FORTEe being featured in HORIZON Magazine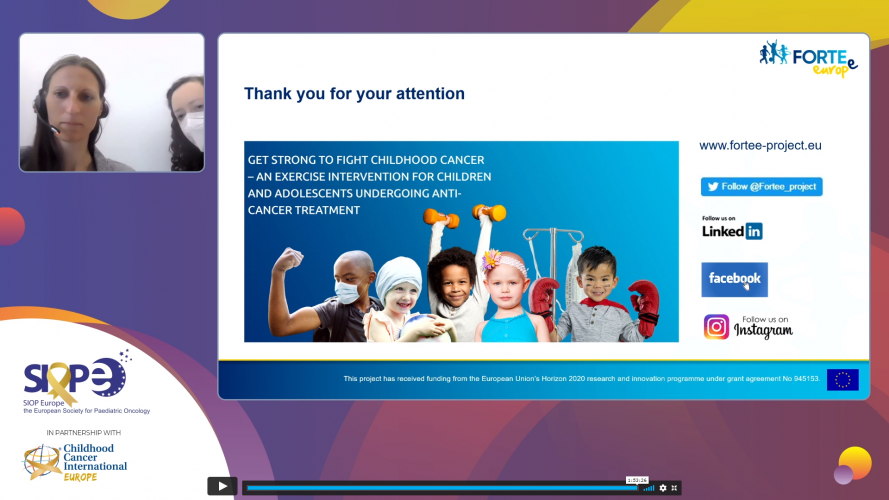 28 April 2021
FORTEe at SIOP EUROPE 2021
Our Scientific Coordinators Dr. Sportwiss. Sandra Stössel and Dr. med. Marie A. Neu presented the FORTEe project at the 2nd Annual Meeting of the European Society for Paediatric Oncology during the I-BMF SCT Committee Sessions, chaired by Prof. Adriana Balduzzi.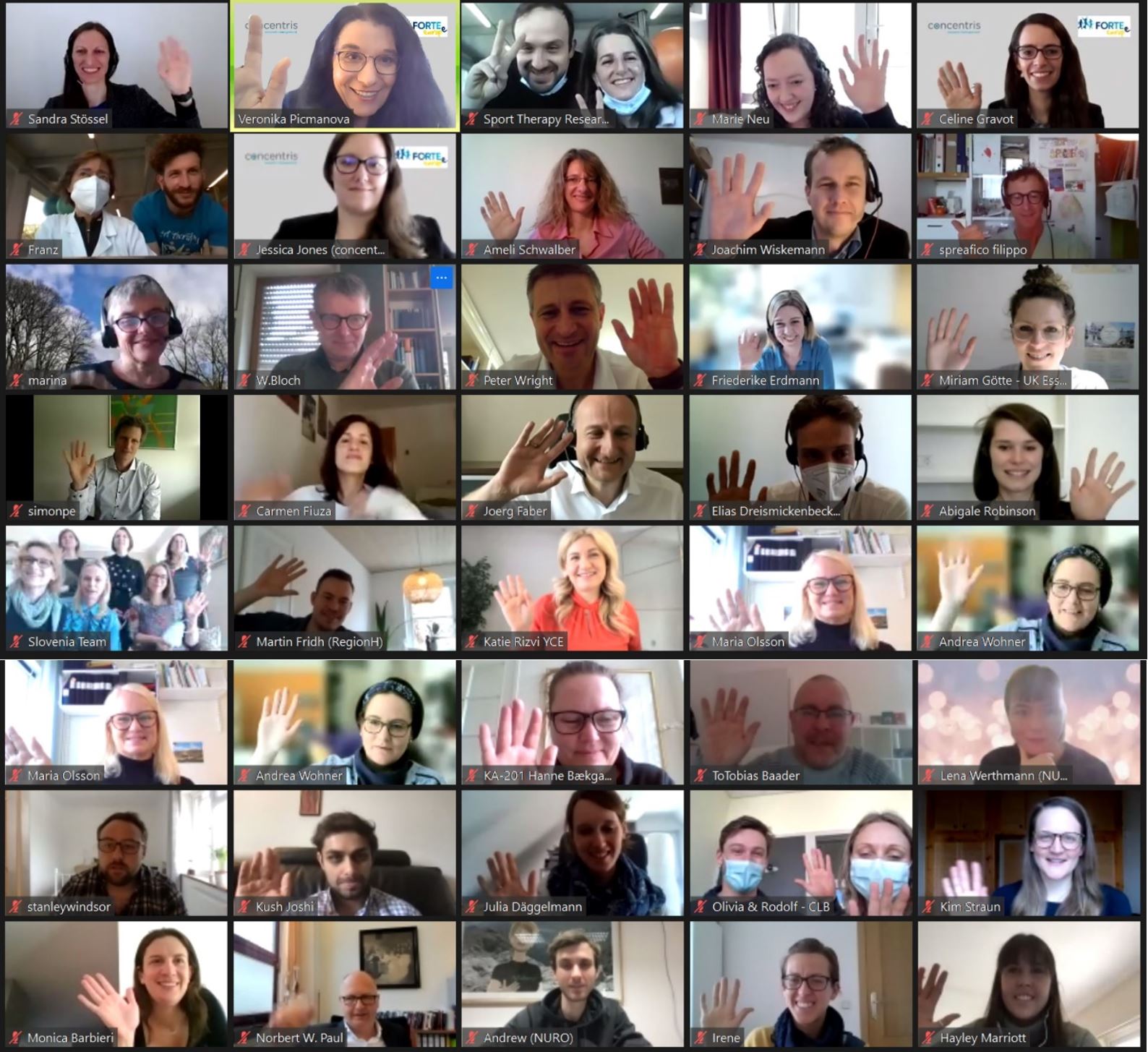 24/25 March 2021
Kick-Off-Meeting
The FORTEe Kick-off-Meeting took place virtually on the 24th and 25th of March. According to the agenda the objectives, work packages, and timeline have been discussed, further steps planned, and all partners got prepared to fight childhood cancer. For more impressions of the virtual meeting follow us on Instagram.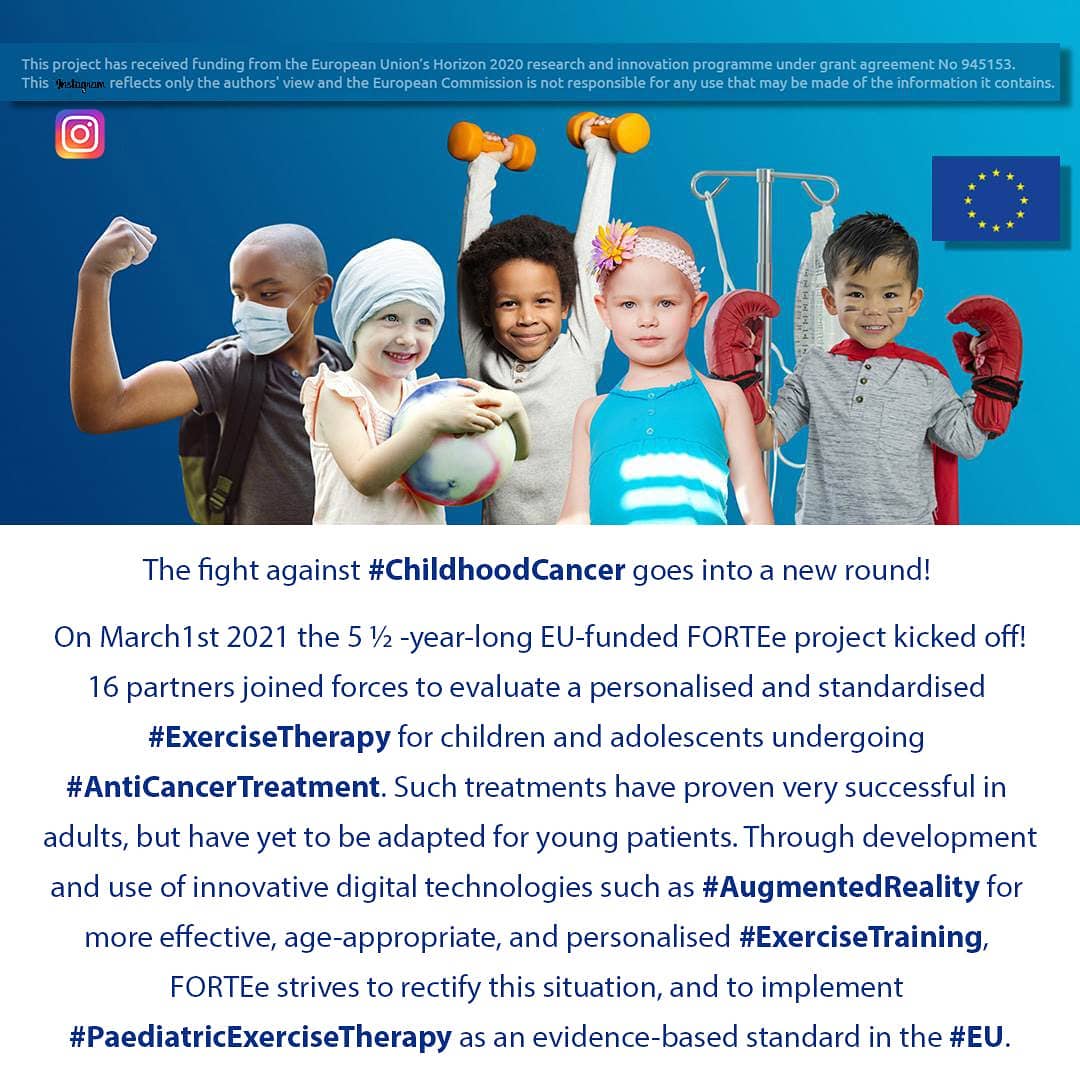 1 March 2021
Kick-Off FORTEe project
The 5½-year-long EU-funded FORTEe project kicked off today and the fight against childhood cancer went into a new round! Sixteen partners join forces to evaluate a personalised and standardised exercise therapy for children and adolescents undergoing anti-cancer-treatment. Such treatments have proven very successful in adults, but have yet to be adapted for young patients. Through development and use of innovative digital technologies such as augmented reality for more effective, age-appropriate, and personalised exercise training, FORTEe strives to improve this situation, and to implement paediatric exercise therapy as an evidence-based standard in the EU.